Prime Volleyball League 2023
Ashwal Rai Cannot Wait For RuPay Prime Volleyball League Season 2
Publicado 08:00, 17 Dec 2022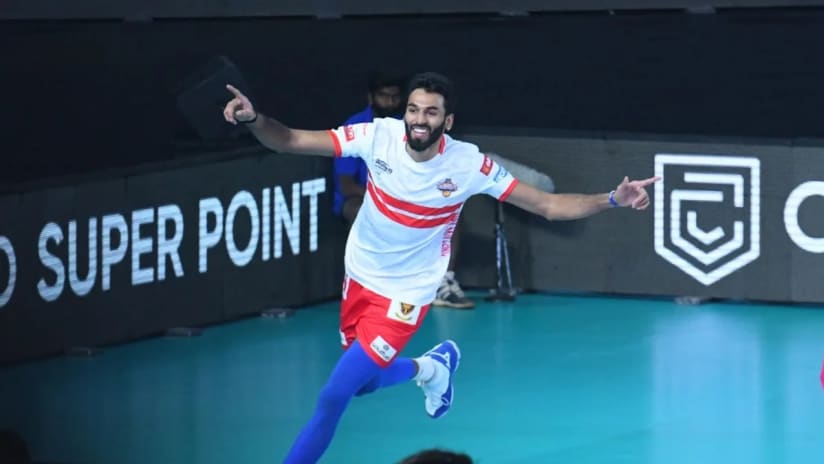 Ashwal Rai ticks all boxes in our book that make him one of India's biggest volleyball superstars. Captain of the champions of the inaugural edition of RuPay Prime Volleyball League Powered by A23, Kolkata Thunderbolts, Ashwal's value to his team cannot just be expressed in words. The 6ft 8 inches colossus towers over almost everyone, and perfectly positions him to be the great player that he currently is.
If a large frame and tall body were the only criterias needed to succeed in sports, then LeBron James would've won every single championship in the NBA. Polishing his craft and putting in hours of practice allowed Ashwal to grow professionally as well as personally.
Taking responsibility and ownership for the team's losses and hardships felt like second nature to Ashwal, as did celebrating every point like it was the last. He was the backbone to his teammates and provided support by encouraging them, while also posing a threat to the opponents' blockers. Ashwal's reliability was second to none as he scored a grand total of 57 attack points with a 64% success rate. Ashwal also managed to top the blockers chart for Kolkata Thunderbolts, registering 12 blocks to his name.
Ashwal commented on the increased level of competition this time around and how the Kolkata Thunderbolts would leave everything on the court in order to retain the championship. "The competition has increased but we'll try our best to be champions this year too. We'll give everyone a tough competition and play to win," he said when asked what targets the reigning champions had set for themselves.
Ashwal also revealed that there was a player he wanted to share the court with but was unfortunately missed by Kolkata Thunderbolts at the auction. "There was, but the auctions were tough this time and we couldn't secure him," he said.
The enigmatic captain has been retained by the inaugural RuPay Prime Volleyball League Powered by A23 champions, Kolkata Thunderbolts, and they will be hoping that history repeats itself so that the RuPay Prime Volleyball League Powered by A23 trophy stays in Kolkata.