Big Ten volleyball media days: Spartan Noodle baby, J-FO, Caffey explanation
Publicado 05:00, 02 Aug 2022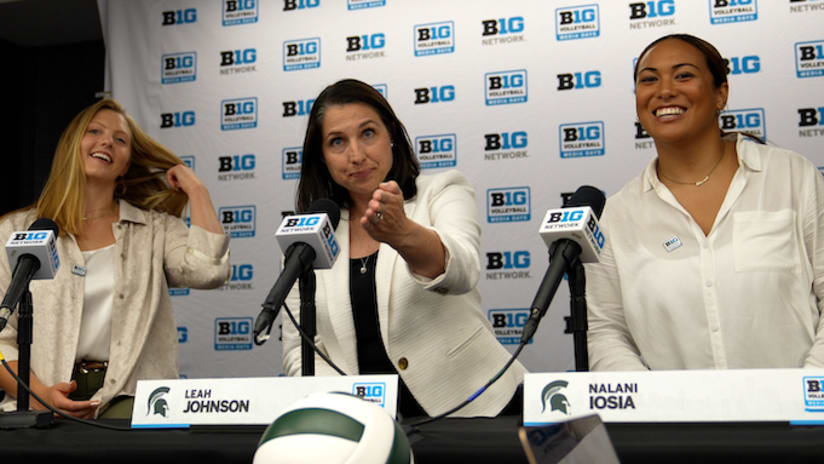 Who stole the show Monday at the inaugural Big Ten volleyball media days?
"It's the Spartan baby," first-year Michigan State coach Leah Johnson said. "We call it Noodle, Spartan Noodle. And eventually Noodle will have a name."
The effervescent Johnson was one of seven B1G head coaches who took the podium Monday with two of their players inside the Big Ten Network offices. It was the first Olympic sports event of its kind.
Big Ten volleyball, the top college conference in America, will be streamed by VolleyballWorld.tv beginning this NCAA season.
"Excited for this event," Michigan coach Mark Rosen said. "It's great to have Big Ten support for something like this and for our sport and for all the programs for the Big Ten."
"Purdue is thrilled to be here today at what I consider a major milestone in the sport of volleyball," Boilermakers coach Dave Shondell said. "And to be part of that is big."
Nebraska coach John Cook took it a step further.
"Thank you to Big Ten for doing this," Cook said. "Incredible experience for the student-athletes. It's a great statement for our sport. One of my hopes and wishes from all this is this is now going to spread to other conferences and continue to validate the growth of volleyball in this country and how big it is and the Big Ten is certainly leading the way in setting the example."
Later, Cook talked about Kayla Caffey, the issue du jour for the Nebraska faithful.
And then there was Ohio State senior setter Mac Podraza, who repeatedly referred to her coach, Jen Flynn Oldenburg, as "J-FO."
It was a historic day in which the Big Ten announced that its matches will appear on international icon Volleyball World. Northwestern, Michigan State, Michigan, Indiana, Nebraska, Ohio State and Purdue all had their time at the podium and stops at, among others, ESPN and SiriusXM.
A note from each of those teams follow. Tuesday, seven more teams will be on hand, in order, Rutgers, Maryland, Iowa, Illinois, NCAA-champion Wisconsin, Minnesota and Penn State.